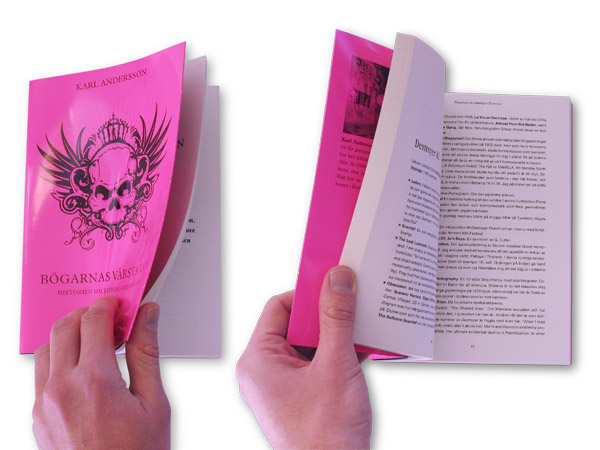 The book "Bögarnas värsta vän – historien om tidningen Destroyer" (Gay Man's Worst Friend – the Story about Destroyer Magazine) is now in stock:
And if you want me to sign it for you, don't forget to tell me so in the comment field when checking out.
The book ships worldwide, but please note that this book is in Swedish. The English translation is scheduled for early 2011.
The book contains no images, only text. It's a description of the reactions that Destroyer caused during its four years (2006-2010), as well as a personal account of why I started the magazine, who the readers were (you lived in 37 countries!), and other stuff related to Destroyer.
The reception of the book in Sweden has been very positive. Two of Sweden's four biggest newspapers (Aftonbladet and Svenska Dagbladet) have written long articles about it in their culture sections, illustrated with covers and spreads from the magazine. I will translate those articles for you in time.
I also had a reading at a gallery in Stockholm last Wednesday. It was so popular that everyone couldn't get in – there was a long line on the street outside. The event was attended by some of Sweden's most influential writers, including Unni Drougge, who blogged about it (in Swedish). Also read 乎者也 and Johanna Sjödin (both in Swedish), not to mention Panchamkauns (yes, in Swedish too).
The book is printed in 500 copies.