Destroyer – Journal of Apollonian Beauty and Dionysian Sexuality was published in 10 issues from 2006 to 2010.
Destroyer was a magazine about the dangerous beauty of boys, and the distorted sexual politics of today's gay movement. As such, it contained academic essays, polemical articles, art pieces, reviews, interviews, and photo reportages with teenage boys. Not nude. Not porn. But shirtless and boyish.
Upon its launch, the magazine faced harsh criticism from a vast political spectrum: Neo-Nazis saw the young models as proof that "gay men are pedophiles". LGBT activists argued along the same lines, and accused Destroyer of "giving gay people a bad name". Lastly, children's rights activists accused Destroyer of containing child porn, an accusation that the police immediately dismissed when seeing the magazine.
The reactions to Destroyer are described in detail in the book Gay Man's Worst Friend – the Story of Destroyer Magazine.
Destroyer has featured repeatedly in academic discourse. A doctoral dissertation describes Destroyer's relevance thus:
The tension along the culturally determined barrier between 'good' and 'bad' sexual expressions is demonstrated in the scandal of Destroyer magazine and the outrage it sparked within gay rights debates.
Check Destroyer's Wikipedia page for more references.
Destroyer is a unique piece of modern LGBT history. Back issues are available – in print or as PDF downloads.
Destroyer 01
Premier issue, released in May 2006. 36 glossy pages in full color. Each copy is signed by hand by the editor.
The Age Taboo – essay about the current state of the gay movement.
Photo essay by German artist Thomas Boehme.
Interview with two twink site webmasters.
Larry Clark's new film Wassup Rockers.
The Japanese anime Loveless.
Destroyer 02
Released in October 2006. 36 glossy pages in full color + 16 pages Destroyer Fiction.
Master of Boy Photography. An exclusive interview with Wilhelm von Gloeden's cultural descendant Cosidetto. 10 pages and plenty of never before published boy photos.
The Artist and the Gang. A New York photographer writes about the subcultures he was admitted into with his camera.
Boyscouts Galore. A tribute to French illustrator Pierre Joubert, who more than anyone formed the image of the scout movement.
Column by Oscar Swartz.
Photos by Chris Tranchier.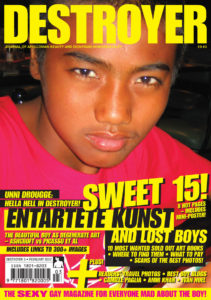 Destroyer 03
Released in February 2007. 44 pages in full color.
Rare Gems. The 10 best out of print photo books.
Spanish film director Ivan Noel about his new coming-of-age film.
Interview with Swedish artist Ajohan Lahti.
Reviews of books by John Henry Mackay and Kief Hillsbery.
Column by Swedish author Unni Drougge.
Degenerate Art – interview with a Russian art collector.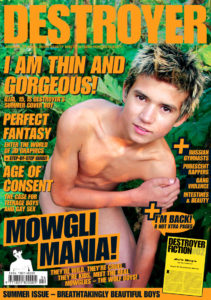 Destroyer 04
Released in May 2007. 36 pages in full color + 8 pages Destroyer Fiction.
Interview with a 3D artist + step-by-step guide.
Pop stars and blog heroes.
Features on wolf children and Russian gymnasts.
Historical feature on Berlin.
Destroyer 05
Released in September 2007. 52 pages in full color.
Interview with legendary New York publisher Fred H. Berger.
American-German artist Will McBride writes about his art.
Photo reportage from Ecuador by Jose Nunez del Arco.
A charity art project from Sao Paulo, Brazil
The story of Gisberta.
3 new reviews by photo book editor Cyril Laurent.
Column by Swedish author and journalist Marita Lindqvist.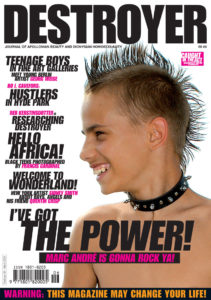 Destroyer 06
Released in March 2008. 52 pages in full color.
Interview with Marc André.
Photo reportage by Francis Cardinal.
Art essay on Berlin artist Georg Weise.
New York artist Sidney Smith about his drawn angels
Interview with Reb Kerstinsdotter, mastering in gender studies
Column by Swedish author and publisher Bo Cavefors.
Destroyer 07
Released in July 2008. 52 pages in full color.
Interview with French photographer Bernard Alapetite.
Photo reportage by Francis Cardinal.
Feature on vintage magazines from the seventies.
Art contributions by Peter Schweizer and Erik Visser.
Column by New York artist Sidney Smith.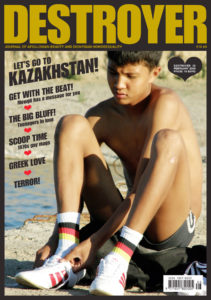 Destroyer 08
Released in February 2009. 52 pages in color and black & white.
Feature on Hollywood movies in the 1930s.
Part two of the feature on vintage magazines.
A critical reading of Disney's classic animation The Jungle Book.
Photo reportage by Nicholas Prenter.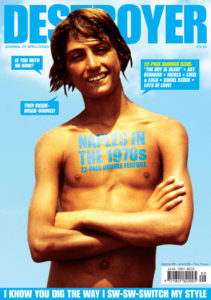 Destroyer 09
Released in June 2009. 52 pages in color and black & white.
22-page double feature from Naples in the 1970s + interview with the photographer Nicola.
Interview with the airbrush artist Art Bernard.
Interview with historian Dietmar Kreutzer.
Contributions by Italian artist duo Luigi & Luca, and Swedish fashion journalist Daniel Björk.
Reviews of novels by Horatio Alger, Jr., Poppy Z Brite and William Beckford + two new photo books.
Destroyer 10
The final issue, released in February 2010. 68 pages in color and black & white.
An exclusive interview with French illustrator Pierre Joubert.
Photography by Will McBride.
Interview with German researcher Gisela Bleibtreu-Ehrenburg.
Feature on Swedish 1970s comic Mystiska 2:an by Rolf Gohs.
Photo reportage from Romania.