Breaking Boy News (2011-2014) was an uncompromising celebration of ideals – an attempt to shave off all unnecessary layers of proper hedges or diplomatic justifications that surround similar content in our everyday life. It was an extrapolation of man and his interests, as reflected in media – a fundamentalist view of what it means to be human.
Logotype
Traditional tabloid newspapers are often called red top tabloids because of their red mastheads, which send a clear message about what kind of journalism the reader can expect. Red top examples include The Sun, Mirror, Daily Star, Daily Record, Berliner Kurier, and, of course, Bild.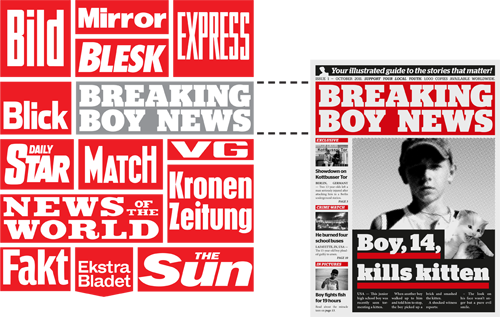 Breaking Boy News joined this style tradition. For font I chose Stag Black. News of the World uses a similar font in a slightly lighter weight. Since both logotypes use the word news, News of the World is the red top logotype that Breaking Boy News resembles the most. This is fitting, since News of the World can be considered the most extreme of all tabloids; its journalism was so shameless that it led to the discontinuation of the paper.
Printing
I found a slightly alternative printer that printed a daily leftwing newspaper in the nights. They first told me it didn't make sense to print only 1,000 copies, from a commercial point of view. For very little extra money, they could print 20,000 copies, they explained. But since my aims were not commercial, but artistic, we settled on 1,000 copies. In practice, this meant several hours of work to set up the printing press, followed by approximately five minutes of actual printing.
Breaking Boy News was printed in September 2011 in the same press as the daily newspaper, and used the same paper and red color. I had achieved the symbolical authenticity that was so central to the project.
A test for the viewer
Breaking Boy News worked in the same way as many of my previous projects: As a test.
Faced with Breaking Boy News, the viewer could not dismiss its core qualities by focusing on something peripheral in the work, and for example "accepting" or even liking the work because of those peripheral qualities. Because there was no periphery – Breaking Boy News was all core, impossible to turn your gaze away from.
As such, Breaking Boy News forced its viewer to take a stand: Yes or No? While most people reacted in one of those two ways, the question they answered is not at all clear. Probably without thinking about it, they answered a question that they unconsciously formulated to themselves, and which says more about them and how they perceived Breaking Boy News, than about the project itself.
Entartete Kunst
Breaking Boy News was exhibited by Isabella Bortolozzi Gallery in Berlin in 2015-2016, along with works by Bjarne Melgaard and other artists.
The show was curated by Turner Prize nominee James Richards and Ed Atkins, and was reviewed in a number of international art journals. Photos from the opening can be seen here.
The book
The book Breaking Boy News (Entartetes Leben, 2014) describes the idea behind the project, the realization of it and the reactions it caused. It also goes into details about the demographics of the people who visited the project website, and ends with a discussion on "degenerate art" in today's society.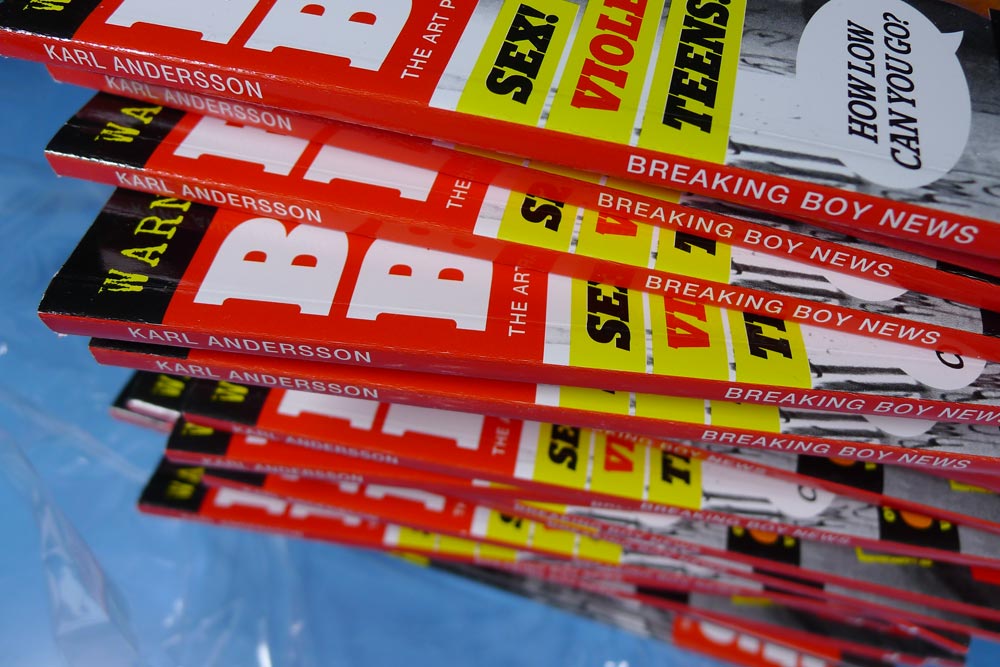 The book is available at all major book retailers in Sweden, in the Royal National Library of Sweden, and all university libraries in Sweden. It can also be purchased, in print or as a PDF download, here.