This is an updated double post with Milkboys, where more Pierre Joubert illustrations can be found.
Pierre Joubert was a French illustrator who created the aesthetics of adventure. He was born in 1910 and died in 2002. This interview was made in 1987 by Mark Silver (who also took the photo above) and published, for the first time, in February 2010 in Destroyer 10.
For the most part, the work you've been doing has been illustrations for books. What type of books and what type of magazines is it you've been working on?
– No magazines, just books.
No Boy Scout magazines then?
– Oh yes that's right. But I was very young. That's all over now.
What publishing houses did you work with?
– A number of different publishers: Epi, Hachette … But I'm done with that now. Now I'm doing book covers, about one a year.
So you only make book covers nowadays.
– Yes, I find it more interesting than illustrations. I like this work a lot. Since 1982 I've only been doing covers.
The Signe de Piste edition of Le Livre de la Jungle (The Jungle Book) with a cover illustration by Pierre Joubert.
What are you working on at the moment?
– Right now I'm illustrating a book series from Hachette. They are using many different illustrators.
You've done lots of work for Hachette?
– Yes. This series covers the entire history of the human race, you have the Vikings, the Chinese, Latin America, prehistoric times …
What techniques do you use? Do you have any favourites?
– Oh I use gouache.
Just gouache? Even from the beginning?
– When I started out I used water-colour, but it is difficult to print. But I sometimes still use it.
Do you always work in colour?
– If they want colour I use colour, if they want black and white I use black and white. Whatever the publishers require.
And what techniques do you use when you work in black and white?
– Gouache.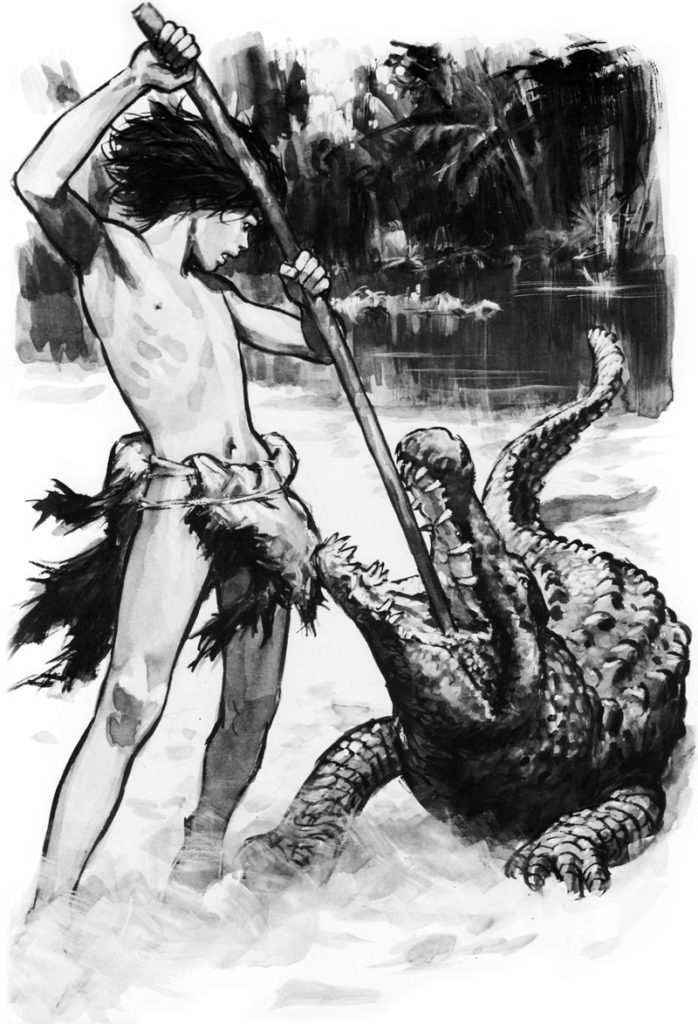 One of Pierre Joubert's black and white gouache illustrations, this featuring the boy Yug.
You started out as an illustrator for Boy Scout magazines, can you tell us something about that?
– In my book Souvenirs en Vrac you find everything I've done. This here is my first illustration, from 1924. I was 14 years old. I was a Boy Scout and I went to illustrator school and so I illustrated the Scouts de France.
Could you show us your first illustrations?
– This is the first one I made.
So this one is from 1924?
– Oh, no it's from 1927. That's when it was printed. It's the first illustration I made. I was a Boy Scout from the age of 14, but I didn't start working for the Scouts de France immediately, I was just a young boy, but when I was 17 they asked me to do an illustration. And this is the very first. After that I made the cover. And later on more illustrations.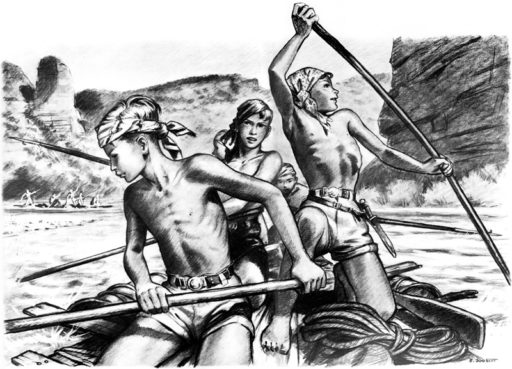 Pierre Joubert: Descente de la rivière (Down the River), 1950. Rotogravure.
These are very sophisticated, you were certainly gifted. The bulk of your work is illustrations, but have you also made comics?
– No.
We researched your career and at the library they said you had made a comic book with Albert Michel?
– No, never.
Did you ever consider doing that?
– No, I had other things to do. Nobody ever asked me to do it, and since I was always busy with my illustrations I never had to consider doing other things. Many illustrators also made comic books and it takes a lot of time to make them.
In those days, were you familiar with comics at all?
– Yes of course, I like reading them, I always did. But I never made any myself.
Your children, did they walk in their father's footsteps?
– No, no. They do all sorts of things. Louis is an engineer. And my daughter is in Calcutta working with handicapped children. Michel is an architect. He designs boats, catamarans. Doing charter for Americans. My other daughter married a farmer and she does all sorts of things. And yet another daughter, Londine, lives in Provence. My son Bruno used to live in Canada but now he's back in France. He worked as a carpenter, he was a trapper … all sorts of things. He met a Canadian woman and now he's a carpenter in France.
What do your children think of your work?
– Oh, they like it a lot. But Louis, he makes a lot more money than I ever did. As opposed to my daughter here … she's very poor. She does humanitarian work.
Do you have the originals for the illustrations that are out of print?
– No, not anymore. There are two that I have kept. But they were always reprinted anyways!
But for the reprints …?
– Right, that is a bit complicated because the first publishing house, Alain Littaye, went bankrupt. And everything they had in stock was held by the court. And they never paid me. They never paid the printers … There was a court case and someone bought their assets. It was a long legal process – two years, almost three, before it got settled.
Cover of Pierre Joubert's Chefs-d'Oeuvre, volume 2, published by Alain Littaye.
Did you ever have any trouble selling your work? I know many illustrators were struggling during the second world war.
– No, because in those days I was employed by the Scout movement in France.
And the Scouts were never banned or persecuted by the Nazi regime?
– No no, that was only in the occupied parts in the north. There was no Scout movement there since the Nazis outlawed them. But in the south of France we were free, so I worked for a Scout magazine in the south then.
Do you have any copies of the magazine from that time?
– Yes. These are from the war. They were printed in St Etienne and Lyon.
During the war, did you do a lot of book illustrations as well?
– No, I only did this.
And before the war, in the 30s?
– I did the series Signe de Piste. When I graduated from school I went to work as an illustrator for a printing house, I didn't go independent at once. I started working on this in 1936.
How long was this series published for?
– Oh, it's still being published to this day.
By the same publishing house?
– No no, it has been published by many different companies over the years.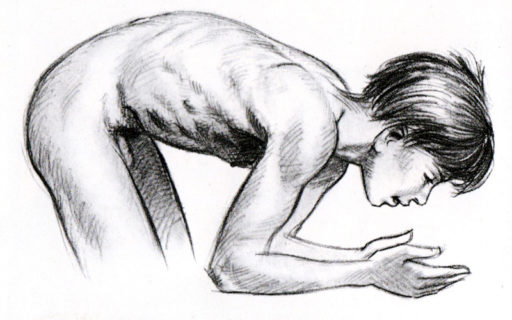 A pencil illustration by Pierre Joubert.
You have been illustrating youth novels all your life. That always was your passion I take it?
– That's difficult to say … I mean … it was more by chance actually. I started working for a printing house where I did a bit of everything. But I felt this urge to be free; I didn't want to get up at the same time every morning and go to work at the same place every day. When I was 22 years old I left the printing house and started working for the Boy Scout magazine. I had made some illustrations for them pro bono, but as the French Scout movement grew they could afford to hire an editor and an illustrator, so I was offered to work full time with the Scout magazine. So the reason I started doing drawings for the youth was simply because this opportunity arose. So I worked for the Scout magazine and around this a series of youth novels, Signe de Piste, came out and I was approached to do the illustrations for it.
So it was by accident that you came to devote your life to illustrating youth novels?
– Yes, it was simply what my clients wanted me to deliver. Several times I have tried to find other things to do, but I always seem to end up getting the same kind of work. But I have occasionally worked on books for adults through my career.
Could you show us some of that work?
– I have something here that I did for the Marine Museum, for example. This is for all ages. I also wrote the text for this book.
Do you have any other interests?
– I'm very interested in heraldry. And history.
Do you feel like you have the possibility to choose what topics to work with?
– Nowadays I do, but that wasn't always the case.
When did that change?
– Well, everyone knows that I am very specialised. I could never illustrate a book about aeroplanes or cars for instance. These days I can choose my work very freely, and people know that I do what I love so they won't even ask me to do anything that doesn't tickle my fancy. So in this case I did have an interest in marine life so I took on the task gladly.
From looking at your drawings it is quite clear that you love people, many of your illustrations have young men in them. You seem to have a very good knowledge of human anatomy. Is that something that interests you?
– Yes, certainly. That's absolutely necessary if you want to draw people. And illustrators who are good at drawing people are very hard to come by. So I am in high demand these days …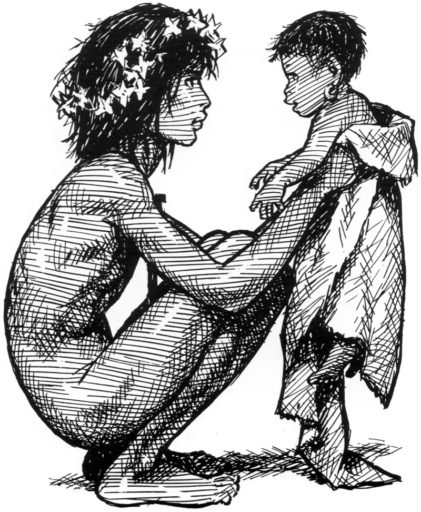 One of Pierre Joubert's illustrations for The Jungle Book.
This is a cover for Signe de Piste, right?
– Yes that's right. I've been working on that series for so many years and I am quite bored of it to be honest. But since the publishers are my friends I have promised to do one cover a year for it. This one is about the son of Alexander the Great.
And the story, is it based on real events or is it fictional?
– I don't know. I haven't read the text.
You haven't read the text?!
– No.
So you don't read the text before you start drawing?
– Well, when I illustrate a whole book I have to read the text beforehand obviously, but here I just had to make one single drawing for the cover and in that case it's not necessary to read the entire book. The author simply asked me to do a 14 year old lad in armour, on a black horse, at night … so that's what I made. I have illustrated 58 books in this series through the years.
I have bought this silkscreen of one your illustrations …
– Oh, that one is not very good!
It's no good?
– Do you like it?
Eh… well … it's the only silkscreen by you that I have come across.
– It's very expensive, and the quality of the print is quite bad!
So did you choose the picture yourself?
– No, someone asked me if they could take one of my drawings and blow it up on a big silkscreen print, and I said "yes." And since the original was so small he had to redraw the whole picture. And as you can see he changed a whole lot from the original …
This interview was published in Destroyer 10 (February 2010), available here in print or as a PDF download. See more Pierre Joubert illustrations at Milkboys.