The book about Destroyer Magazine is available in English and Swedish, in print and as an ebook.
The original Swedish book was subject to both praise and criticism in the culture sections of Sweden's biggest dailies. The English translation made headlines in fashion and gay magazines alike across the globe – Gay Times (UK) and Out (USA) to mention a couple.
Quite a response for a self-published book printed in the hundreds. But then the story of Destroyer Magazine is a spectacular read. From dramatic live radio debates and police interrogations to "serious reflection on the direction of today's LGBT movement", as one Dutch gay mag called it. It's all part of the Destroyer story, which is told from Prague, Berlin and Stockholm.
Read the book in English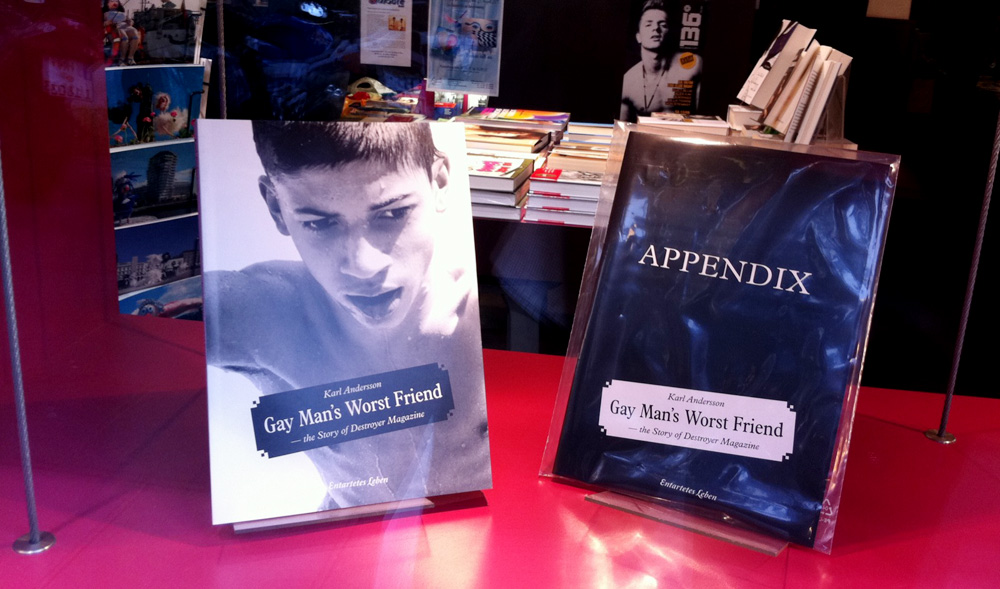 Gay Man's Worst Friend – the Story of Destroyer Magazine
Print version released in March 2011 (ISBN 9789163368998).
Available at Cmykrush (both print and download), Amazon, Gaybooks.de, and at selected book stores and art galleries in Germany and the UK.
Also available for the Kindle at Amazon.com, Amazon.ca, Amazon.co.uk, Amazon.de, Amazon.es, Amazon.fr, Amazon.it, Amazon.co.jp.
And at Google Play.
Read the book in Swedish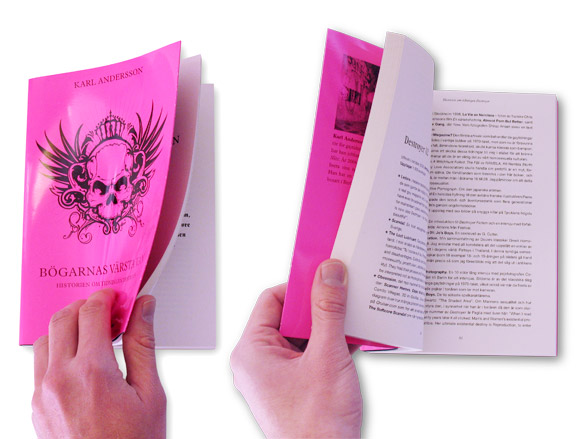 Bögarnas värsta vän: Historien om tidningen Destroyer.
The original Swedish book was released in October 2010 (ISBN 9789163368981)
It was reviewed in 3 out of Sweden's 4 national newspapers: Aftonbladet, Expressen, Svenska Dagbladet.
"It's an exciting contemporary history that is told – about hard work, about vulnerability, about being in-your-face." (Aftonbladet)
Buy the Swedish book at Cmykrush (both print and download) or at any of the major book stores in Sweden, for example the biggest one Adlibris.
Also available as an ebook at all major Swedish ebook retailers, such as CDON, Bookster, Mobook and Dito.
The Appendix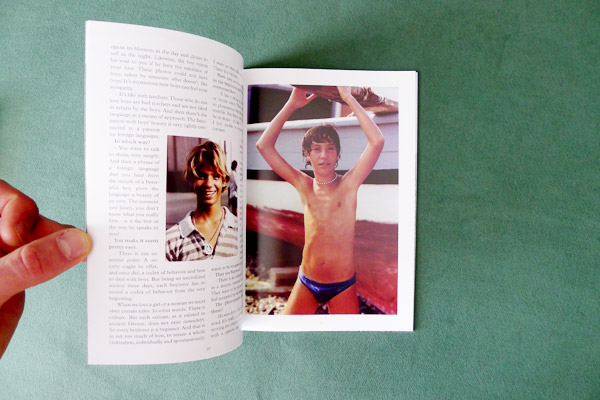 The Appendix is a 32-page full color booklet that contains selected content from Destroyer, including the criticized "secretly taken photos" from sold-out Destroyer 02. There is also some new material, like two full-page nudes by Will McBride and D.H. Mader.
The Appendix is available in print or as a download. It can be bought separately or bundled with the book (select the option to include the Appendix).