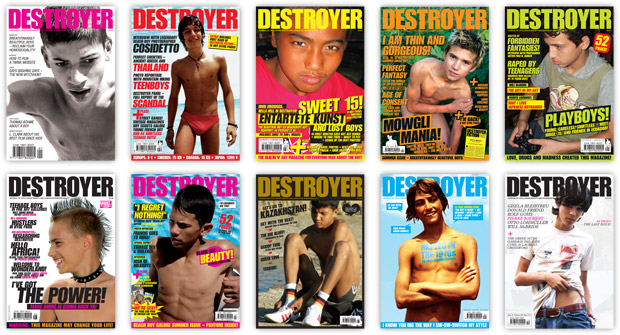 The extraordinary Destroyer Magazine was published in 10 issues from 2006 to 2010.
It was a fanzine about the dangerous beauty of boys, and the distorted sexual politics of today's gay movement. It contained academic essays, polemical articles, arts reviews, and inspiring interviews. But most of all it contained some of the hottest photo reportages ever published; "imagine XY Magazine as XXXY", as someone put it.
Or in other words: Imagine photo reportages with boys, aged about 13 to 19. Not nude. Not porn. But shirtless and boyish.
Not unexpectedly, the magazine had to face fierce criticism from moralists of all political colours – you can read more about those reactions in the book Gay Man's Worst Friend – the Story of Destroyer Magazine – available in print, and as PDF and EPUB downloads. (You can also find it at Amazon – in print and Kindle versions – and as an ebook at Google Play – just search for it!)
About the only ones who did not rage against Destroyer was the police, who – when faced with accusations from the magazine's critics – simply concluded that it was legal.
After the magazine was discontinued, it reached almost iconic status and was written about in Out (the world's biggest gay magazine). The book was reviewed in a number of gay magazines and most Swedish daily newspapers. Fashion bible Bon Magazine let Spanish publisher Luis Venegas interview Destroyer's editor.
Destroyer is a piece of modern history.
Get your own copy here >> in print or as a PDF download!