Swedish artist Nisse Zetterberg (1910-1986) made this mosaic for the new school in Högdalen outside Stockholm, Sweden, when it opened in 1959: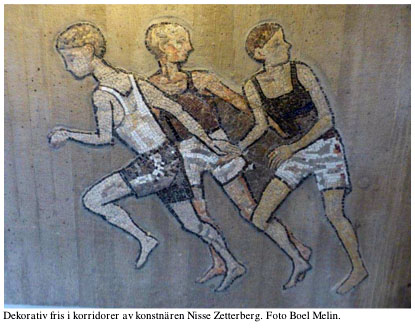 The school has been empty for many years, and will now be torn down to give way to apartments. But a group of activists occupied the school last weekend to stop this development. They used Nisse's mosaic in one of their events, and the result is the artwork at the top of this post.
Update: Participate in the event!
On Tuesday, 2 June 2015, between 5 pm and 11 pm, you can visit an art opening which is an homage to the great artist Nisse Zetterberg. Just come to the school – if the place still exists (which is also the name of the exhibition). More info here (Facebook link).