False paedophile claims
A 44-year-old man in the UK has been detained after falsely accusing people he didn't like of being paedophiles. The Examiner writes:
One of his victims, a schoolteacher, has been unable to return to work because of the false allegations made by the 44-year-old.
The 44-year-old also experimented with calling people "terrorists", but, of course, "paedophile" was more effective.
Man/boy balance
The 13-year-old boy who went on a killing spree on a school in Barcelona, Spain, was stopped by the school's PE teacher, David Jurado Fernandez, who is now rightly hailed as a hero.
He describes what happened:
I got closer and closer to him and then he collapsed, I hugged him and he began to cry like the child he is and like the child I taught.
A friend described this as a "man/boy balance". Male teachers, and especially the PE teacher, are sometimes the only authority that troubled boys will respect, love and be loved by. There is a unique dynamic to the man/boy relationship, which is beneficial not only to the boy and man in question, but to society at large. If only this troubled boy had been "picked up" by a man who could see and love him before he turned to weapons and killing. But usually, those important men are the same as those we fire from the schools and send to jail. And then society is shocked when another boy turns to violence – will people ever see the connection?
Protesters urge BBC to revise history
The documentary "Glad to be gay" was first shown on BBC in 1976. It contains interviews with gay people. One of them – in fact, the presenter – was Ian Dunn, who also was one of the founders of Paedophile Information Exchange (PIE). In the 1970s, the word gay included such groups and people too.
Now in 2015, BBC has put up the 30-minute documentary on their website, in a series of vintage documentaries about gay life. Some groups protest against this, since the documentary, according to Daily Mail, "portrays Dunn as a legitimate gay rights activist and makes no reference to his role in setting up the reviled group".
"This is horrifying and shows complete contempt for those who suffered at the hands of Ian Dunn and other members of PIE", a woman from the organisation One In Four says to Daily Mail.
Who it was that "suffered at the hands of Ian Dunn" was not specified, nor were any references to trials or court decisions made. Dunn himself could not defend himself against the sweeping accusations, since he died in 1998. (Lex Friend, Gajdusek, et al.)
BBC, meanwhile, has refused to take the show off their website, stating to Daily Mail: "This video – which doesn't involve or discuss any children – was considered a significant programme on gay rights and has been online for many years."
It's funny how these groups grab after even the slightest thing that does not conform to their worldview. Now they want to revise gay history, to pretend the gay movement was founded by the same kind of harmless married churchgoing same-age couples that are running it (rather cynically and/or ignorantly) today.
Link to the video. (Can't be watched from a Swedish IP location, and I couldn't get it to work with a random UK proxy either. Maybe people with real UK IP addresses have better luck? Also available on this link, though I can't get that one to play either. Can it be that BBC actually did "axe" the show? Maybe longtime reader Rimmer can enlighten us?)
Oops, Russia did it again
Remember when Russia covered the penis of the Apollo statue at the Bolshoi Theatre? (Destroyer reported.) Well, the art censors are at it again, this time at the Mezhdunarodnaya metro station in Saint Petersburg: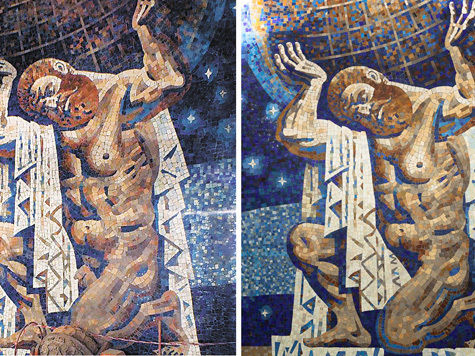 Photo tip by Rinrin from this article in Russian.
Kiddy porn surge
Swedish media report that the number of reported online child porn crimes in Sweden has doubled since 2012, up to 918 reports in 2014.
I guess more mothers are reporting their daughters for damaging the family's honour by sending their boyfriends hot photos of themselves on Snapchat.