Alexander Ziegler was editor in chief of Du & Ich between 1971 and 1979, so in this advent calendar we are enjoying his last year of editing.
Ziegler was also an actor and a playwright. He was well-connected or charming enough to convince a number of huge stars to give interviews for Du & Ich, including Zarah Leander and Mick Jagger. (A more substantial story on Du & Ich and Alexander Ziegler can be read in Destroyer 08.)
Ziegler was also a criminal, according to the Swiss law of the time (yes, Ziegler was Swiss). When he was 22 years old he was sentenced to prison for two years because of having had sex with a 16 year old, namely, his boyfriend. (I guess Dan Savage would have been really happy to see Ziegler "go away for a long, long time", all while the rest of the gay movement fought to abolish these discriminatory laws.)
This is the background to Ziegler's touching editorial in Du & Ich 3, 1979: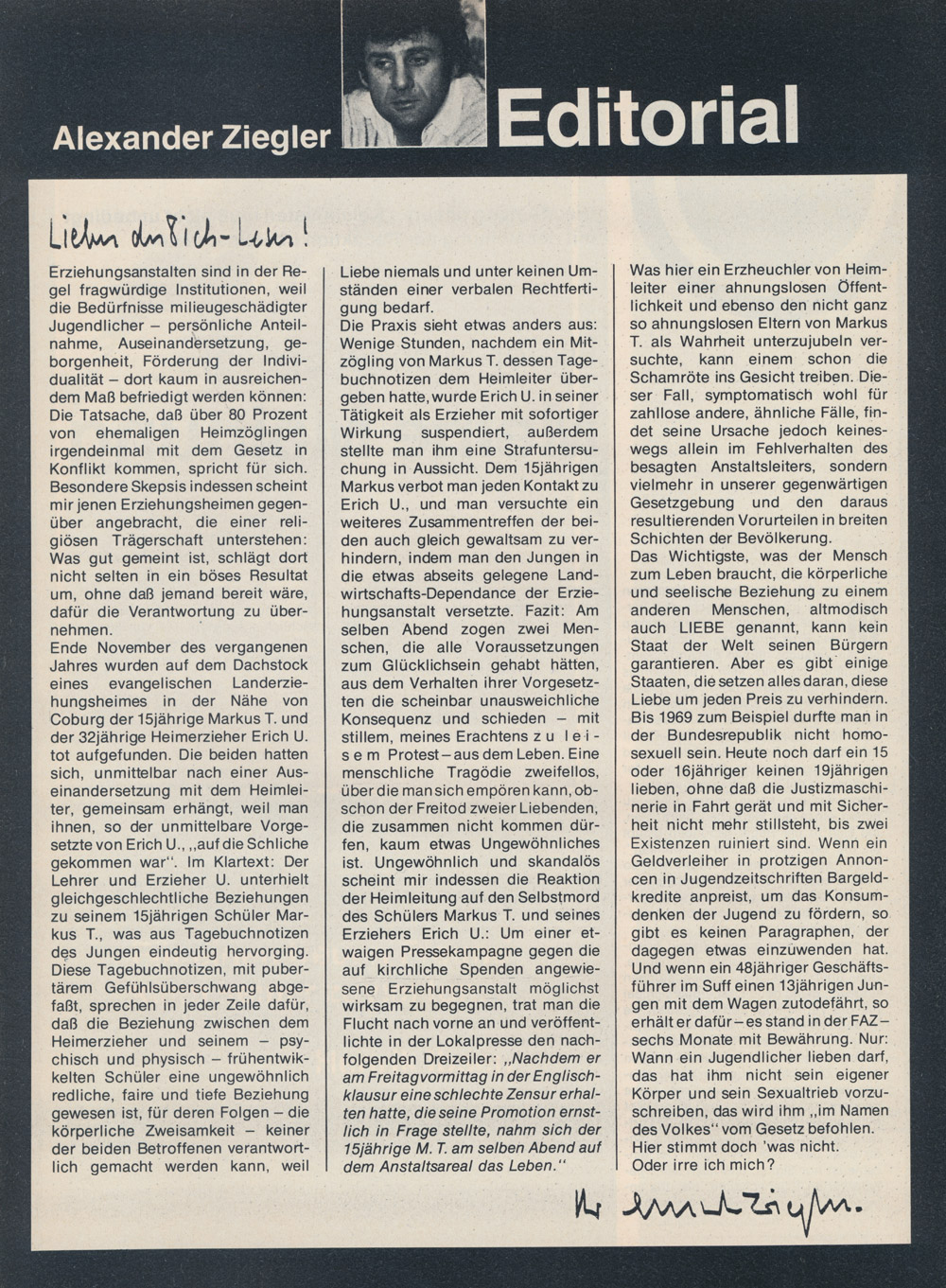 Ziegler writes about the doomed love between Markus, 15, and Erich, 32. Erich was some kind of teacher for Markus, who was, as Ziegler puts it, "early developed both physically and mentally". Markus wrote in a diary about how much he loved Erich. The diary was discovered and Erich was suspended, with possible charges waiting. Markus was forbidden to see Erich again. To make sure he couldn't see Erich, Markus would be taken to an "Erziehungsanstalt" (some kind of home for delinquent boys) outside the town the next day.
Ziegler writes:
"The result: That very evening, because of the acting of the authorities and the seemingly inescapable consequences, two human beings, who would have had the best premises for happiness, silently – as I see it, as a silent protest – took their own lives."