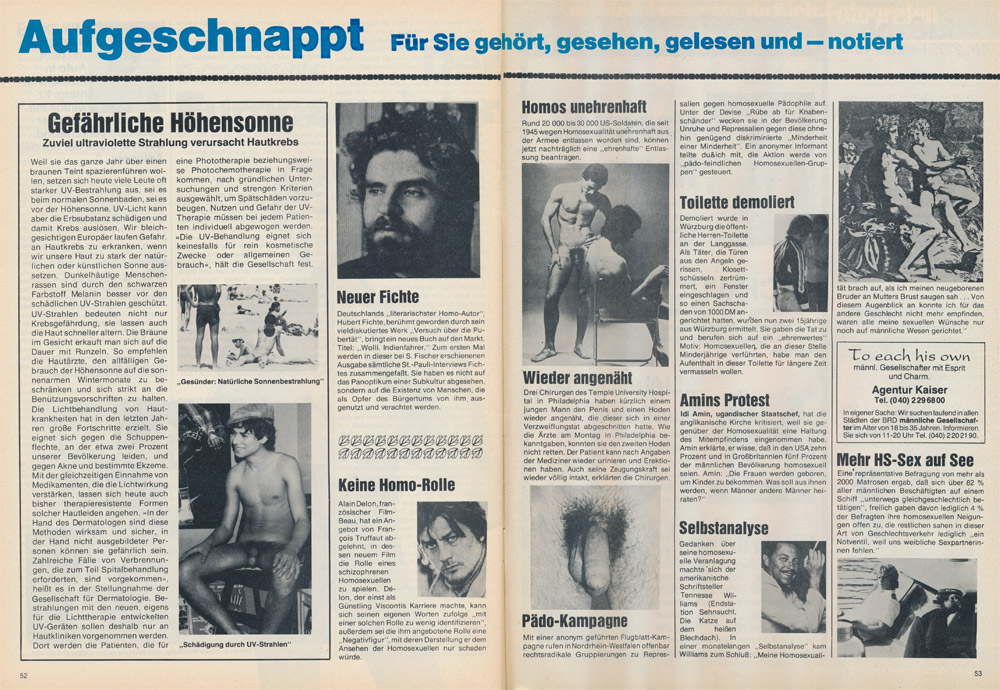 Each issue of Du & Ich contained a spread called "Aufgeschnappt" ("Snapped up"), with short news pieces from around the world. Click the image above to view it larger and read the texts in German!
It's easy to become nostalgic about the carefree years post-Stonewall and pre-aids. The biggest text (on the left) warns the readers for what I suppose was the biggest threat to gay men at the time: Skin cancer due to too much sun on the vacation!
The text "Pädo-Kampagne" ("Pedo campaign") tells of an anonymously written and distributed pamphlet with phrases such as "Rübe ab für Knabenschänder" ("Heads off for boy molesters"). The Du & Ich editors regret that this "minority within a minority" once again has become a target for right extremists. However, they also write that an anonymous source has informed Du & Ich that the campaign was run by "pedo hating gay groups".
Another text, "Toilette demoliert" ("Toilet vandalized"), tells of two 15 year olds who are suspected of having destroyed a public restroom. Their "honorable" motive: To stop gays from "seducing" boys there.
I think these little snippets of gay news give quite a good picture of gay life in the 1970s.