We've had a very successful spree on Twitter over the last half year, with Destroyer, Breaking Boy News, Puberty Tales and their editors/authors gaining thousands of followers, mainly among gay youth globally, resulting in hundreds of retweets and many new visitors to the websites of our little boy empire.
Of course it couldn't last.
Now all but one account has been suspended. Despite there was nothing illegal to see there – of course not. But then Twitter suspensions have nothing to do with whether something is legal or not, but whether it's … I don't know, objectionable? By the standards of a Midwestern soccer mom?
I'm not surprised. Twitter is an American company, and despite being more liberal than Facebook (breastfeeding, yuck!) and Google (gay blogs, yuck!), it's still an American company. I never trust American companies and I knew this would happen eventually.
It's sad though to see Destroyer's account go after almost five years. Yes, you might remember that we started tweeting actively in 2009, and by then we had already had the account "for ages".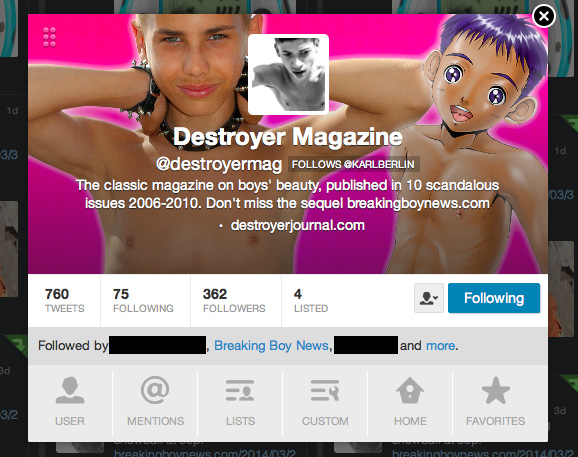 I'll take this as an opportunity to abandon Twitter altogether, after having done the same thing with Facebook after they suspended Breaking Boy News in 2012.
It was fun while it lasted.
But it's good to be self-hosted. Destroyer and its kind put terms and conditions to the test, try the limits of those elastic paragraphs about "obscene" and "immoral" content. We're proud to do so, but it has also taught us not to rely on third-party providers.