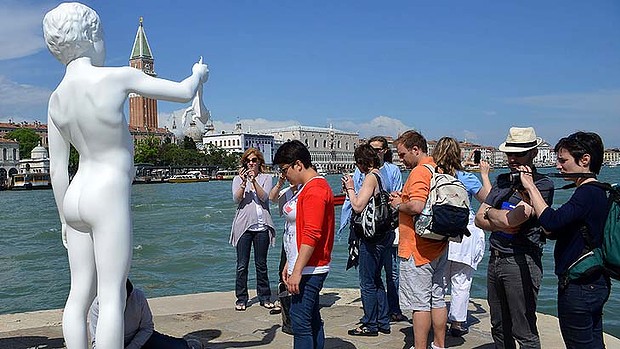 BBC reports that Venice has decided to remove a controversial statue of a naked boy, after protests from locals.
The 2.5 meter (8 ft) tall "Boy with Frog" by US sculptor Charles Ray has stood at the tip of the Punta della Dogana for almost four years.
The boy will be replaced by a lamp-post.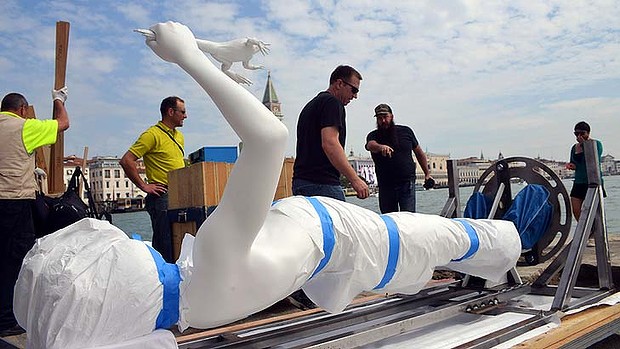 "Workers began to remove the sculpture overnight on Tuesday ready to clear the space early on Wednesday", BBC writes.
In London, there have been calls to remove Eric Gill's 1932 statue "Prospero And Ariel" from the building of BBC. The statue resembles a man holding a naked boy and is supposed to be a symbol for broadcasting:
The reason why some people want it removed is that the artist, who died in 1940, reveals in his diaries, published in 1989, that he had sex with his daughters and a dog. Sydney Morning Herald writes:
Now Fay Maxted, chief executive of The Survivors' Trust, a body which represents organisations supporting survivors of rape, sexual violence and childhood sexual abuse, told the London Journalism Centre: "It's an insult to allow a work like this to remain in such a public place. It is almost mocking survivors, it is intolerable."
BBC has no plans to remove the sculpture, according to a spokesperson, but it's no surprise that the trend to call for removal of controversial artworks is gaining ground.
We recently reported that Moscow's famous Bolshoi Theatre has added a fig leaf to cover the genitals of their Apollo statue, a move that had a striking resemblance to US Attorney General John Ashcroft clothing the statues outside the US Department of Justice.