I've decided to take the Destroyer book off Amazon, for the reason that Amazon has changed the way they stock books.
It works like this with Amazon:
As a publisher, I have a little stock at Amazon's various inventories in the US. The books are legally mine until they are sold, but by having them stocked up in their own inventory, Amazon can ship them quickly to customers.
In the case not all books in the inventory would be sold, they would be returned to me. However, even though my book didn't sell at such a high pace, eventually all copies in the inventory would always be sold, and in total, Amazon has sold almost 100 copies of it.
As a publisher, I pay for the shipping to Amazon's inventories in the US.
Since it wouldn't make sense to ship one book at the time, since the shipping cost would be unproportionately high, I wished I could set a minimal order number of three books, since that would cost the same to ship as one book. That wasn't possible, but I was told that each time Amazon placed a stock-up order for one book (which the system automatically did per default), I should contact them and ask them to cancel that order and place a new one for three books. I did that for the first two years and never had any problems with it (except for the annoyance of not being able to set a minimal order limit, which would save time for both me and Amazon's support staff).
In February 2013, as Amazon ordered their usual 1 copy, and I placed my usual support ticket to ask them to order 3 copies, I was told that they from now on will not accept such stock-up requests, except in cases of marketing campaigns. They suggested:
At this point of time, If you do not wish to ship the quantity ordered by our automated ordering system, confirm that order to zero (0) units and select "Temporarily out of stock" from the drop-down.
So that's what I've been doing since February. Amazon's "automated ordering system" has since then placed 22 orders of 1 book. I've set them all to "temporarily out of stock", but it's getting a bit silly. So as of today, I've "suspended" my book, meaning I won't get any more orders, and that the book won't be available anymore on Amazon.
The finances of Amazon's 1-copy order policy for me:
Retail price on their site: 22.80 USD = 17.75 euro

Minus Amazon's wholesale discount of 55 percent = 9.75 euro

Minus shipping = 3.45 euro

(not counting packaging)

Minus cashing checks = 0.65 euro

(it costs 11 or 21 euro per check, but I've had Amazon void many checks and send out a big one instead, which lands the average cost per book about 0.65 euro. Amazon does not make bank transfers to non-US publishers)
= I get 3.90 euros from each book sold for 17.75 euro by Amazon. That's almost 22 percent, yippee!
Minus the actual printing cost of the book!
Leaving me with a profit per book counted in cents, not euros.
Making money was never my main objective to sell on Amazon. Rather, having them sell my book was a way to give legitimacy to a controversial story. It was therefore a big moment to see the cover of my book turning up on Amazon – Amazon! – after having been approved by their staff. It was cool to have a button on my website saying "buy on Amazon", to be affiliated with the world's biggest retailer – and it was practical for US readers to be able to buy the book on old, trustworthy Amazon.
However, that was two years ago. The book has reached its core audience, made its headlines (in Gay Times, Out, and a number of other magazines and newspapers, gay and straight) – and the thrill of being on Amazon is simple not as … thrilling anymore. As we say in Sweden: It costs more than it tastes.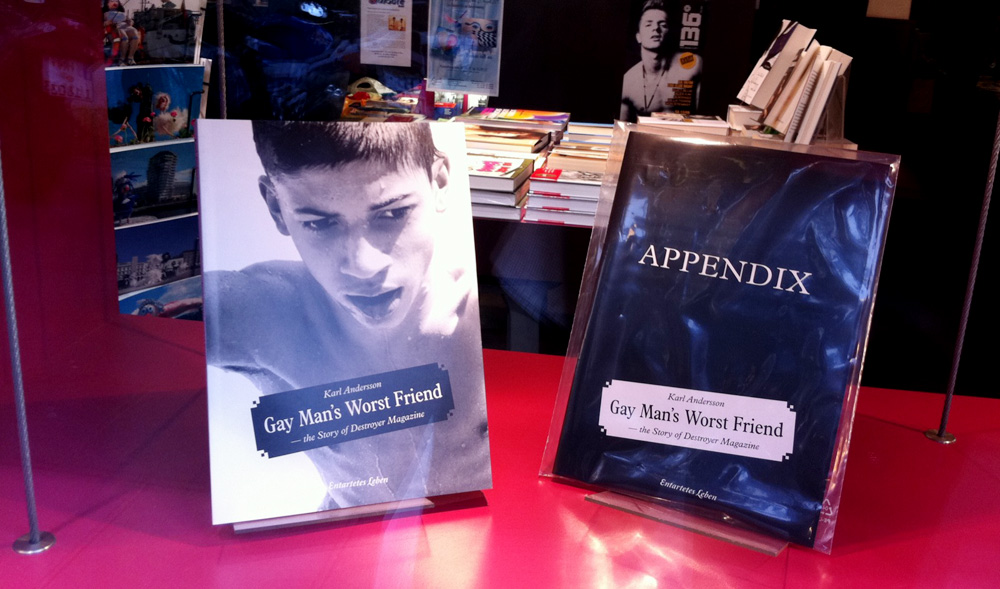 The alternative would of course be to raise the retail price on Amazon, but at least for the moment, I won't bother. After all, the best way to buy my book remains Cmykrush, where you can also get it bundled with the full-color Appendix.