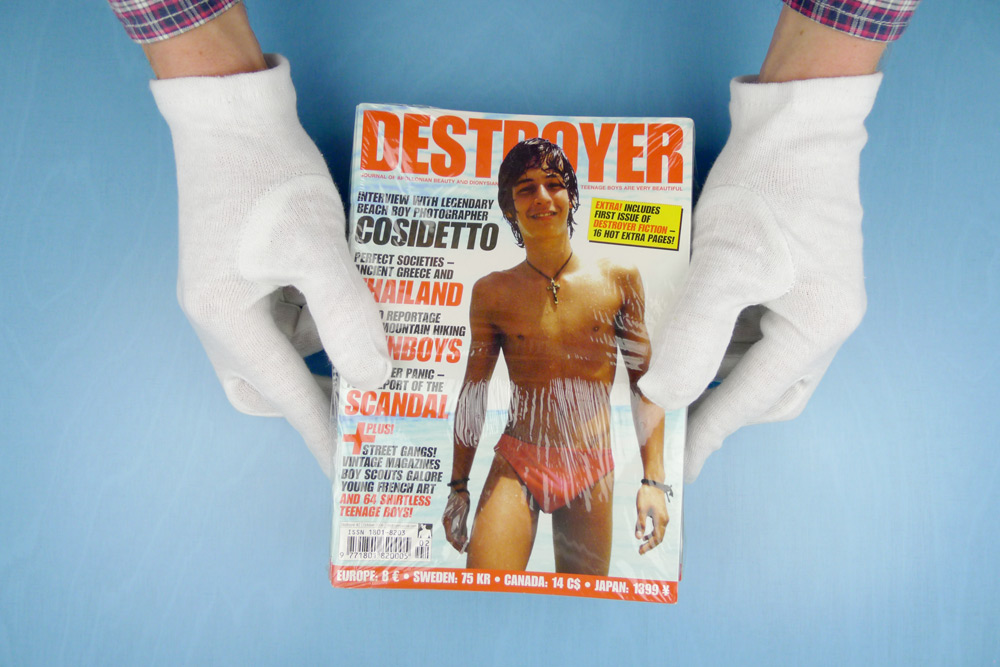 IMPORTANT UPDATE: The auction is cancelled – please read this post.
It has finally arrived. The day that I know many of you have waited for for years. The day when you can finally purchase a copy of Destroyer 02 – or at least learn how to go about it. But let's take it nice and slow from the beginning:
The most common question I get as editor of Destroyer is: Will there be a reprint of D2?
The answer is no.
The next common question is: Can I get hold of some old copy of D2?
Until now, the answer to that question too was no. I thought I only had a handful left, and wanted to save them for the archive. Also, it wouldn't have been fair to sell the few copies I had to a certain person, since so many of you have contacted me over the years regarding this. So I used to recommend Ebay, where it of course wasn't available either.
Why did Destroyer 02 sell out so fast?
In fact, it only took weeks for the 1,000 printed copies to sell out. There were several reasons why this happened, but the main one was the sudden surge of resellers that wanted to stock Destroyer after the magazine gained notoriety around the world after the media scandal of the first issue. So I shipped hundreds of copies to stockists in North America.
I didn't know much about these companies. Except for the famous bookstore Glad Day in Toronto, they were mail order companies, apparently with many customers who wanted to read Destroyer.
One of those companies suddenly ordered 200 copies of D2, and I shipped them happily. When asking about payment some time later I got one line in reply: "Sorry, we're out of business."
To this day, I don't know if I was set up or not, but that's how one fifth of the print-run disappeared. After that incident, I got less blue-eyed and always demanded money in advance from retailers overseas. However, these resellers soon vanished. Maybe it was the times that worked against them, traditional mail-order companies as they were, without websites even. So at the same pace that I started printing more than 1,000 copies of each issue of Destroyer, the number of wholesale orders declined.
That's why D2 sold out so quickly while there are plenty of copies left of all other issues (though I haven't counted them for a while; I think copies of D1 and D10 are getting scarce). I even lost contact with Glad Day and was never paid by them.
That was all in 2006. Imagine! Almost seven (!) years later I have some good news for all of you who have emailed me over the years with questions about D2: I've found a stack of them. The last one. It was buried deep down in a box of D4's in a storage that I don't visit often (and which is pretty chaotic).
I've decided to sell these very last 30 copies of Destroyer 02 – to the 30 highest bidders!
IMPORTANT UPDATE: The auction is cancelled – please read this post.
The rules are as follows:
The auction starts today and goes on until the last of March 2013, 23:59 (11:59 pm) CET (Berlin time).
Send an email to editor@destroyerjournal.com with your bid, use subject "D2 Auction". You will get a confirmation (check spam folder).
You will not know what the other bids are, so you will have to take a chance on what to bid; the more important it is for you to be among the 30 winners, the higher you should bid.
You can bid in US dollars or euros. If you bid in dollars, your bid will be counted in euros according to the Google conversion rate of the day that the auction ends.
It's ok to raise your bid during this period (despite you don't know the other bids).
In the beginning of April 2013, the 30 highest bidders will be asked to pay for their copies, by credit card or bank transfer. When I have received payment, the magazine will be sent out with registered mail in a stiff envelope. Postage is included.
The bids (but not the bidders – unless you want that, see below) will be announced on this blog, so that you will know what bids you lost against if you weren't among the lucky 30.
One more thing. Those of you who win the auction will not only receive your copies of D2, but you will also become important contributors to my current and future publishing in an area that is controversial but important. I'm proud to run a business that has survived financially since 2006, but it isn't always easy – a big thanks to all of you who have ordered various items over the years! I have yet many ideas and a few concrete projects that are being printed right now actually. Therefore, don't look at your bid only as the price you want to pay to get D2. Look upon it as a donation that will help me continue my publishing. The 30 people who win the auction will automatically become a kind of patrons.
That's why we start quite high – no bids under 100 USD/77 euro please.
And that's also why, if you want it, you can add a name or pseudonym to be published next to your bid, so that other people can see who (or what pseudonym) placed the highest bids.
And that's why all 30 copies are sealed with numbered "proof of purchase" seals that include the final price for that copy (highest bid gets number 1, and so on), and my signature.
This feels historical.
There are 30 copies.
Welcome with your bids!
/Karl
IMPORTANT UPDATE: The auction is cancelled – please read this post.