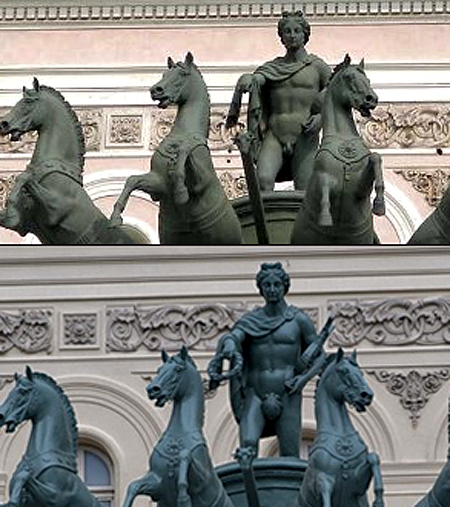 The Bolshoi Theatre in Moscow has added a fig leaf to cover the genitals of the statue of Apollo by Petr Clodt.
What can you say? It will be fun to watch Russia go down the way America has been doing for the last decades. (Believe me, one must hit rock bottom before things will turn to the better. Learn from the Germans.) After all, it's been a whole 10 years since US Attorney General John Ashcroft decided to clothe the statues outside the Department of Justice.
In other news on Russia, the parliament recently decided to outlaw "homosexual propaganda". With the vote 388-1-1.
My reaction to those news was to immediately sell all my Russian bonds. True story. That's my kind of activism.
Congratulations, Russia. Hope you'll be invaded by Japan. (Actually, hope we'll all be invaded by Japan some day, complete with gang rapes and mandatory Doraemon screenings, please.)
More photos at Rinrin.