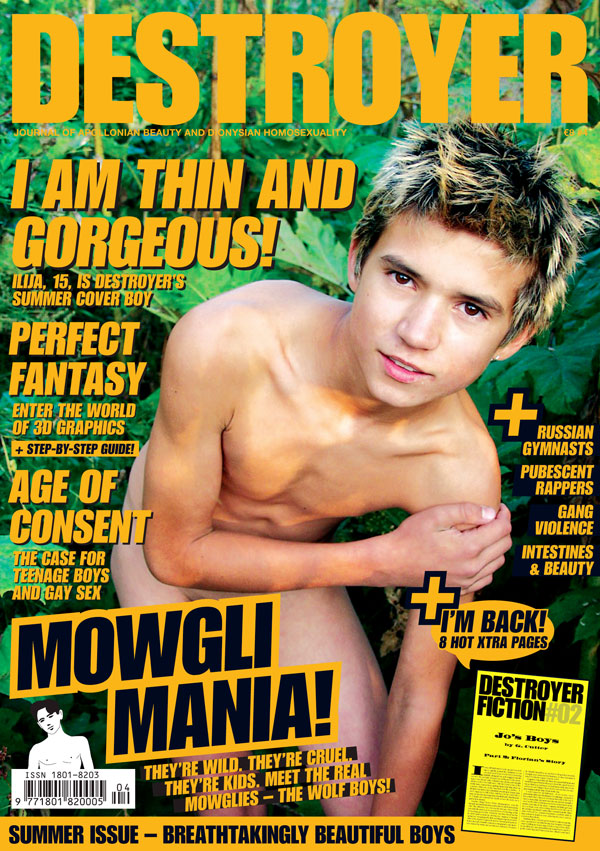 Destroyer 04 is finally available as a pdf for purchase and download at Ilovemags. Yes, we're having a double release today – don't miss the post we just published on the Destroyer 03 pdf.
Buy a download of Destroyer 04 here.
Content highlights:
Wolf children now and then.
Photos by Alexander Krivon and Fred H. Berger.
Interview with a 3D artist + step-by-step guide to create your own 3D boy.
Russian boy gymnasts.
The gay museum in Berlin.
Some preview spreads from Destroyer 04:
Buy the full pdf version for 4.99 euro (6.55 USD as of today's rate) at Ilovemags.com!
(Also available with a resolution boost – choose it from the drop down menu on the product page.)
See all available Destroyer PDF's here!
And to answer the question I know you all have now: Will Destroyer 01 and Destroyer 02 become available again, as pdf files and/or in print? The answer is: Maybe! At least as pdf versions. But it will take time. A long time. So for now, lean back and enjoy Destroyer 03 and 04. It took some time to compile them. And then let's see if the first two issues can make the series complete at some point in the future. Follow Cmykrush on Twitter to get the news first.