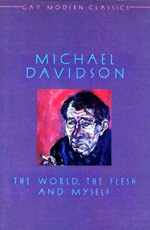 Dear readers, don't miss the Michael Davidson feuilleton that will run here on the Destroyer blog as an advent calendar from 1st to 24th of December 2011. Each day there will be a new quote from his autobiography The World, the Flesh and Myself – available at Amazon from 3 dollars!
This is a book that matters – hopefully to you. That's why I've chosen it for Destroyer's first Advent Calendar.
Starting tomorrow at 6 AM Central European Time – enjoy!