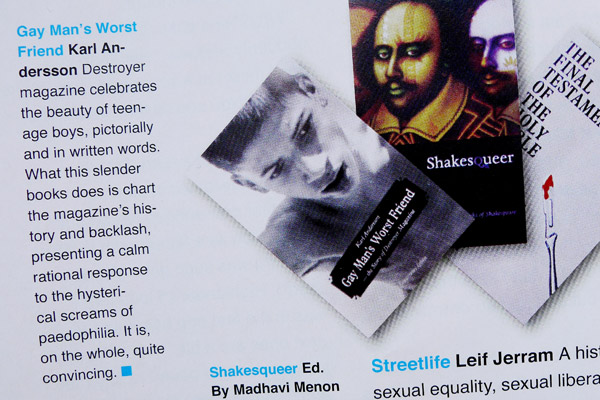 The UK gay magazine Gay Times reviewed Gay Man's Worst Friend in their June 2011 issue (not available online). It was a short but positive review:
Destroyer magazine celebrates the beauty of teenage boys, pictorially and in written words. What this slender book does is chart the magazine's history and backlash, presenting a calm rational response to the hysterical screams of paedophilia. It is, on the whole, quite convincing.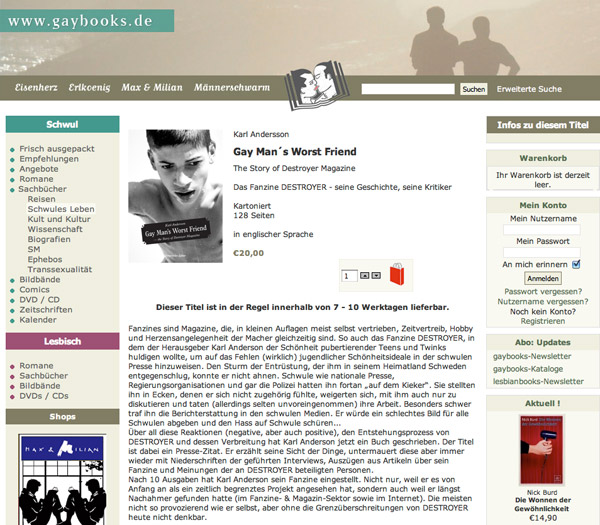 German gay bookshop Männerschwarm (and its online bookshop Gaybooks.de) not only sells Gay Man's Worst Friend, but has also read it and written a review (in German). Here is my English translation (I've skipped the introduction and a sentence I couldn't translate):
With his fanzine Destroyer, he wanted to celebrate the beauty of adolescent teens and twinks, and to highlight the absence of (really) young beauty ideals in gay media. He hadn't anticipated the outrage this would lead to in his home country Sweden. Gay as well as national media, government authorities and even the police had it in for him. They cornered him in places where he didn't feel he belonged, they refused to discuss with him […] The hardest reports came from the gay media. He supposedly fueled homophobia by spreading a bad image of all gay men …

He has now written a book about all these reactions (negative as well as positive ones), about the creation of Destroyer, and its spread. The title is a quote from the media. He tells his view of the matter, often with the help of interview transcripts, excerpts from articles about his fanzine, and the views of those contributing to Destroyer.

After 10 issues, he discontinued his fanzine. Not only since he from the start thought of it as a time-limited project, but also because he had long since got his epigones (fanzines and magazines as well as web sites). Most of them not as daring as he himself, but also not even imaginable without the border-crossing of Destroyer.
Milkboys wrote quite a while ago. The article begins like this:
The one publication that never failed to inspire this blog was Destroyer from a Swedish queer activist & troublemaker. It was the first (and so far only) magazine that dared to put teen boys into a place that our modern society had reserved for adolescent girls. What was normal for the latter—to be adored, idolised and often enough sexualized—was apparently unforgivable once the same patterns were applied to boys.
The blog Queerupture has written a long review, here is an excerpt:
I just finished reading Gay Man's Worst Friend: The Story of Destroyer Magazine (2010) and I am left feeling inspired, ambivalent and intrigued. The book chronicles the editor's trials and accomplishments through out the four-year and ten issue run of Destroyer, a magazine dedicated to the beauty of the boy. It includes personal accounts of hilarious and nerve-racking encounters with the police, and expected yet disappointing rejection and hostility from mainstream LGBT organizations. Although I have not read through all of the issues (being a broke student makes them slightly too expensive…), the ones I have read were great for their mixing of academic(ish) critique and aesthetic appreciation of boyhood, deviance, and the LGBT community.

[…]

Overall, however, the book is a fascinating read for those of you who have ever thought about the behind-the-scenes goings on for magazines, especially magazines which are underground, independently published and take on controversial and/or sexual topics. Furthermore, it is a great (albeit partial) account of the politics of the contemporary European LGBT movement's relationship with pedophile movements, hebephilia, and the politics of pornography. And of course, for those of you like me, who have read Destroyer and have been following its critiques and publicity, this is a wonderful account of its tenuous yet rich life from the determined and audacious man who made it all happen.
I also have to quote an American friend who complimented me on my style. Yes, I did the translation from Swedish myself but had it thoroughly checked by a native English speaker, with me constantly hanging over his shoulder, explaining what I had tried to express, or holding him back when he corrected too much. It took many hours, but obviously it paid off. My friend wrote:
You did very well by your translator (I know, it was you!) and your editor; this was one of the smoothest reading books, qua style, that I have encountered in this field for years.
Now I'm waiting for your reactions! Write them in the comments or, even better, at Amazon.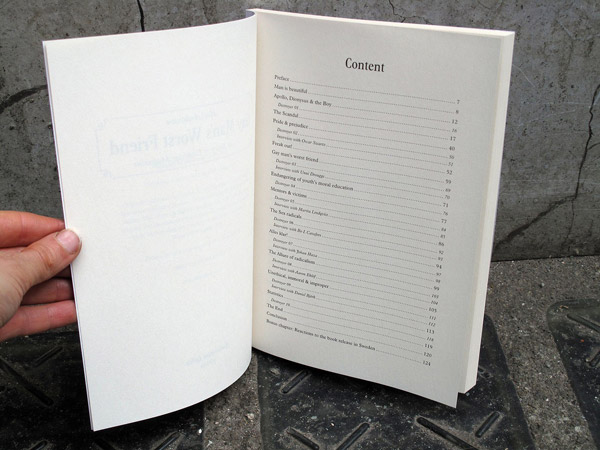 Last but not least, Motto Distribution has taken a few fab pictures of the book for their shop.
Plus: I found this mention by Homo Magazine really sweet: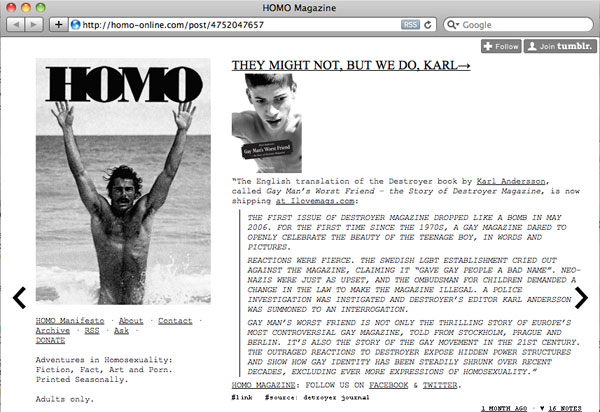 PS: If I missed some review or comment, please inform me and I'll update this blog post!