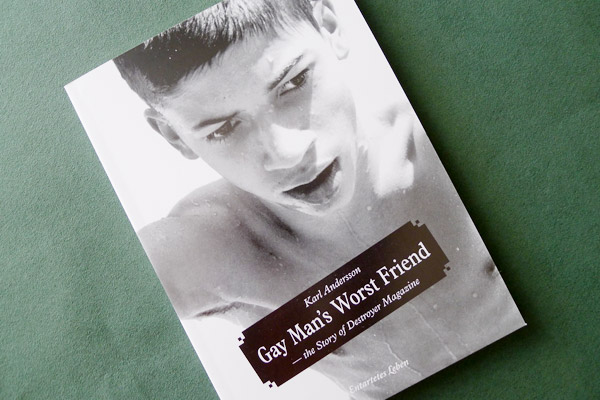 Amazon has recently stocked up on Gay Man's Worst Friend – the Story of Destroyer Magazine. You can buy it here. Please write reviews and "like" it – if you like it. 🙂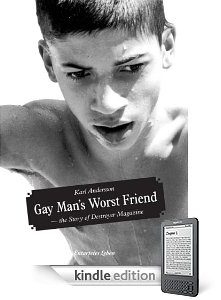 The book is also available as a Kindle edition – you can buy it at Amazon.com, Amazon.co.uk or Amazon.de, depending on your country and in which currency you'd like to pay. The price is 9.99 dollars, or the equivalent in pounds and euros. VAT is added for European customers.
As always, the book is also available in our own shop. That's the only place where you can add a printed appendix in full colour to your order, to a cost of 5 euros.
The appendix contains some of the best content from Destroyer, like the interview with boy photographer Cosidetto from the long sold-out issue 2, as well as several photos that has relevance to the content of the book, which in itself contains only text.
Some photos from the appendix: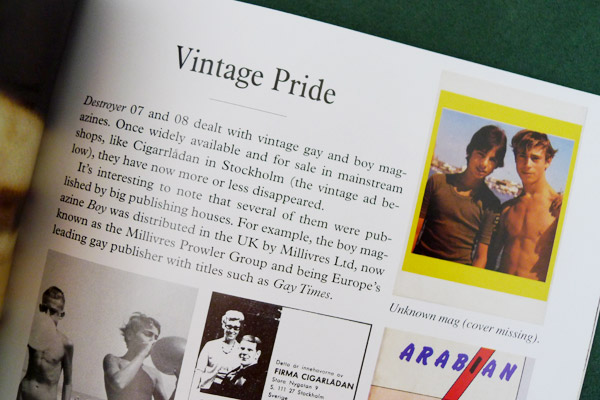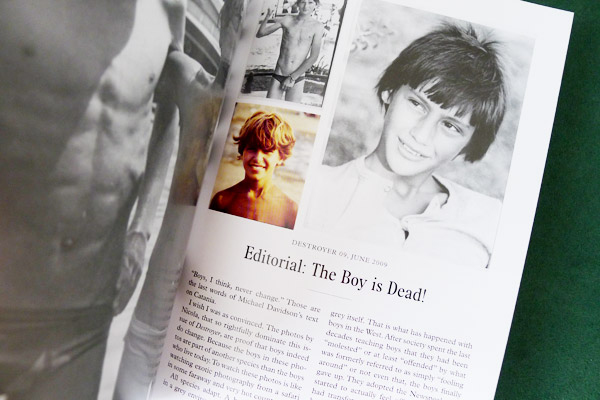 All book orders at Ilovemags (and at Amazon for that matter) include a book mark from Entartetes Leben. So the full package (book + appendix + book mark) will look like this: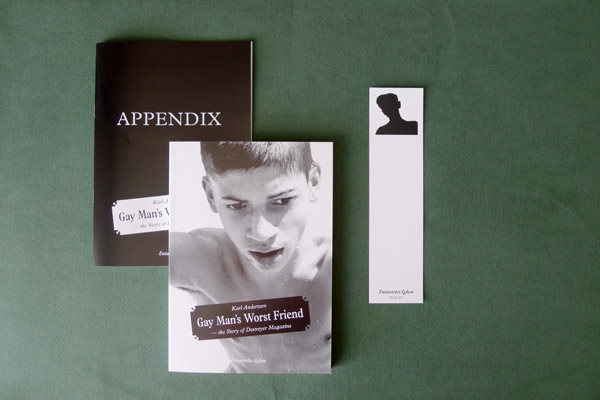 (Buy the above package here! Update: the bookmark is not included anymore).
In addition, Gay Man's Worst Friend – the Story of Destroyer Magazine is now available in these physical shops:
Germany
B_books, Lübbener Str. 14, 10997 Berlin

Do you read me, Auguststr. 28, 10117 Berlin

Motto, Skalitzer Str. 68, 10997 Berlin

Prinz Eisenherz, Lietzenburger Str. 9, 10789 Berlin

Pro qm, Almstadtstr. 48-50, 10119 Berlin

Männerschwarm, Lange Reihe 102, 20099 Hamburg

Erlkoenig, Nesenbachstr. 52, 70178 Stuttgart
Sweden
Hallongrottan, Bergsundsgatan 25, Stockholm (Swedish edition)

Hedengrens Bokhandel, Stureplan 4, Stockholm (Swedish edition)

NK Bokhandel, Hamngatan 18, Stockholm (Swedish edition)
United Kingdom
Gay's the Word, 66 Marchmont Street, WC1N 1AB London
Next up is a review watch, but until then: Happy shopping!