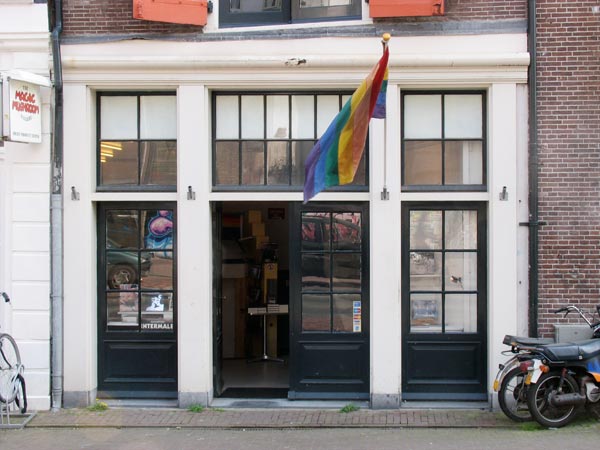 Intermale Gay Bookstore in Amsterdam closed its doors at the end of January 2011, after 27 years in business. Intermale was a one of a kind gay bookstore with a wide selection of books and magazines. Not least, it was the biggest reseller of Destroyer. We asked the owner Eric Wulfert some questions about his store.
Why did you start Intermale?
"I was already involved in the book business and in 1984 my boyfriend and I decided to start Intermale as at that time there were no other gay bookstores in Amsterdam. It was an opportunity to do something meaningful and it also had commercial possibilities."
Why did you move to the Netherlands?
"I moved from the USA in 1972 as Dutch society then was more accepting of gays. I was born in New York City and had also lived for a few years in Berkeley, California as a graduate student at the university there."
Why did you decide to close down the shop?
"I decided to close Intermale because sales had been declining for some years and it became financially impossible to keep it open."
What have the reactions been among your steady customers to the close-down?
"Many of our local customers were genuinely sorry that we had to close and we also received countless emails from mail order customers expressing their disappointment. Some of their reactions were quite personal and touching."
Do you think many bookshops are struggling since Internet/Amazon? Is there anything one can do about it – except from closing down?
"Bookstores with a physical location are going to have a hard time competing with with giant e-sellers like Amazon. I'm afraid the old days of being able to casually browse in a real store are quickly disappearing, and this is true of retail outlets in general, not just bookstores."
Was business ever prospering, and if so, when and why?
"Business was fine for a long time and at its peak in 1998 when Amsterdam hosted the Gay Games. Since then a combination of factors made business increasingly more difficult – the rise of internet selling, the decline of Amsterdam as a gay hotspot, and finally the recession."
There is still one gay bookstore in Amsterdam, Vrolijk. Would you say you differ in some ways, and in that case how?
"Vrolijk started in the same year as Intermale and was in its early days as 'alternative' as we were. It has now metamorphosed into a sort of lifestyle gift shop which also happens to sell books, mirroring the shift in gay consciousness from liberation to marketing. Although I wish them success as the last venue in Amsterdam exclusively for gay books, they have always been hostile to intergenerational material (so much for liberation) and have never stocked Destroyer or the Dutch mag equivalent, Koinos."
You sold Destroyer from the first issue. How did it sell? Any recollection of Destroyer customers?
"Destroyer always sold very well and we had to reorder it frequently. Because of the age group involved, some customers were embarrased about buying it in the same way as some gay men of my generation were embarrased about buying bodybuilding mags in the 1950s and 60s."
Did you have any personal favourites in your selection?
"In my opinion the finest works dealing with 'us' in English are Isherwood's A Single Man and Proulx' Brokeback Mountain, which turns the American cowboy story genre on its head. As far as the intergenerational theme is concerned, I suppose my vote would go to Mann's Death in Venice. In all three cases the books are much better than the films, and in the last example the boy Tadzio is clearly much younger in the book than he was depicted in Visconti's film."
And at last: what will you do now?
"The big existential question! I have no idea yet what the future will bring. I'm still a bit stressed out from the mechanics of closing the store so for the time being I'm going to have a long rest and then feel my way carefully into the future."