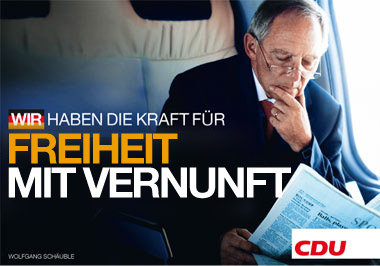 The German blog Netzpolitik.org challenged its readers to satirize the German party CDU's election campaign, more specifically the ad with interior minister Wolfgang Schäuble, an avid advocate of excessive surveillance laws.
The original says: "Wir haben die Kraft für SICHERHEIT UND FREIHEIT". (We have the power for security and freedom.)
CDU also has an ad with industry minister Karl-Theodor zu Guttenberg, saying "WIRTSCHAFT MIT VERNUNFT".
My take on the campaign is a remix between the two: "FREIHEIT MIT VERNUNFT".
I like it because despite it's an extreme statement, it doesn't sound too implausible. In fact, I wouldn't be surprised if CDU decided to copy me right away!