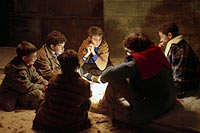 I haven't seen the French film L'île atlantique/Insel der Diebe, but the theme young criminals is always enticing. Why, it's a film based on a novel by Tony Duvert, who died recently.
The film will be screened tomorrow, Saturday 20th September 2008, on Arte at 23:00. Try to catch it – I will!
Here's what Arte wrote (in German) at the film's first screening in 2005.
German Wikipedia has a another description (also in German) of the film.